Diwali Rangoli is a traditional Indian art form used to decorate the floors of homes during Diwali. It is usually made from colored powders like turmeric, rice flour and chalk.
Rangoli is a domestic painting which is prepared by the women of the house on auspicious occasions. Different types of flowers and leaves are mainly designed inside it. Along with this, religious symbols and signs are also used in Rangoli.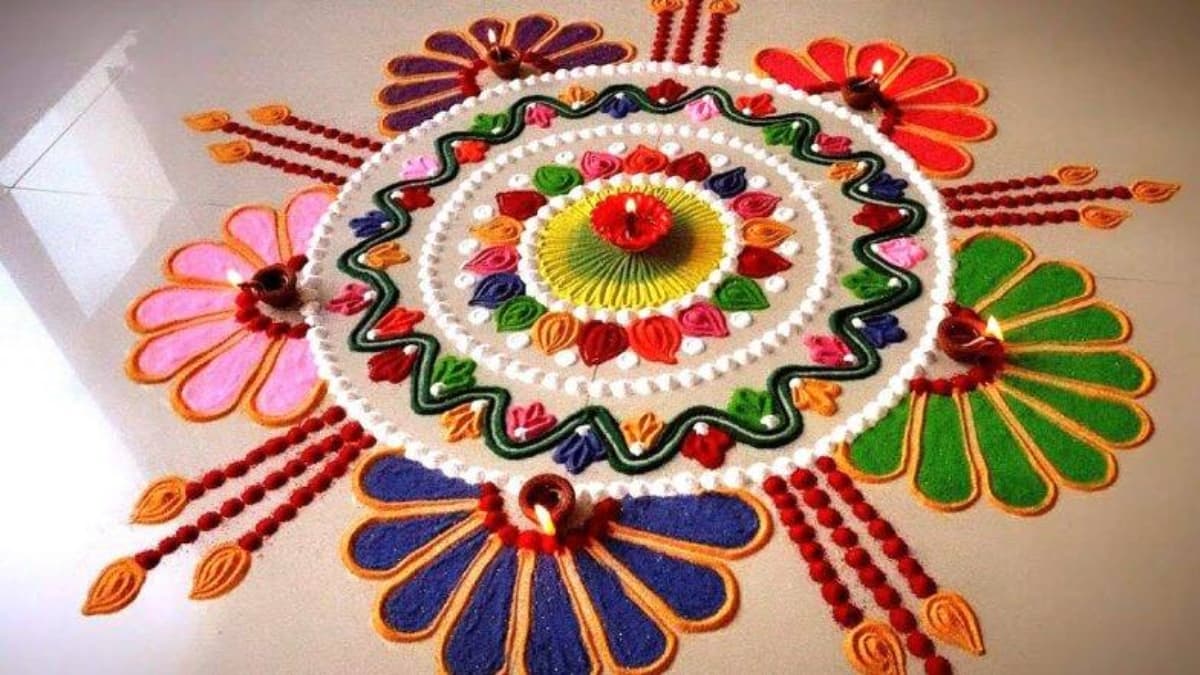 What is Diwali Drawing OR Diwali Rangoli
To decorate the house during Diwali, different types of figures are engraved on the walls and floor of the house.
Different types of religious symbols and symbols of Gods and Goddesses were made on the walls of the house at the time of Diwali, which were important during the celebration of Deepawali. Inside this, paintings were made on the walls of the house and paintings and rangolis were made on the floor of the house. At present, the raw walls are no longer there. Now in the name of Diwali drawing, the design of Goddess Lakshmi's feet is made only on the floor of the house, and Rangoli is made in the courtyard of the house or around the door through different colors. This is known as Diwali drawing.
Why rangoli designs for Diwali
Rangoli is also used to perform various rituals during worship in the house, as well as it is believed that it works to increase positive energy in the house.
Rangoli is also used to enhance the beauty of the house, so that Goddess Lakshmi can come inside the house.
Rangoli designs are used for Diwali to bring good luck and prosperity to the home. It is believed that they drive away evil spirits and bring positive energy to the house. Additionally, they are a way to express creativity and celebrate the festival of lights.
Rangoli designs for Diwali
Diwali Drawing is a type of art that is created to celebrate the festival of Diwali. It usually involves drawing colorful designs and patterns on paper or canvas, and often includes symbols of Diwali such as lamps, diyas, and rangoli. Diwali Drawing is a great way to express creativity and celebrate the festival of lights.
Let's see the tremendous and wonderful designs of Rangoli….
Beautiful Happy Diwali Rangoli 2023
Awesome simple design of Rangoli for door
How to Create Rangoli – Video
This is a shot video. Which is taken from youtube. Here you will find a very easy way to make a beautiful Rangoli shape in less than 1 minute, and in the same way you can make a beautiful Rangoli at your home.
Nice Ragoli Making Easy Method – Video
Rangoli looks very beautiful after making it, and looking at it, it seems that it will be very difficult to make it. But Rangoli is such an art, which is very easy to learn. A beautiful Rangoli can be prepared in very less time. There is a special way of making Rangoli. A beautiful Rangoli can be made very easily at home with small items found in the house.
In this video, how a very beautiful Rangoli has been made with the help of utensils and small items available at home. With this method, you can easily prepare Rangoli at your home. To prepare Rangoli, you need colorful powder. You will be very happy to know that you do not need to prepare this powder at home. If you want you can prepare at home. It is easily available to you in the market. ifyou do not have time to make it. Let us see how a beautiful Rangoli can be easily prepared by anyone at home.